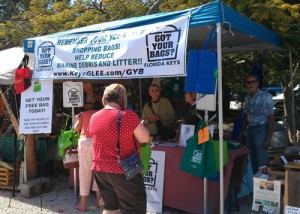 "Got Your Bags?"  Florida Keys is a coalition of residents, businesses, organizations, and local government dedicated to the reduction and voluntary elimination of single use plastic bags. The group formed together during the summer of 2012 to raise awareness of the dangers of plastic bags and to promote the use of reusable bags whenever possible.
It is well documented how damaging this little everyday item is to wildlife. The Florida Keys is a refuge for many protected species and the economy  relies on the National Marine Sanctuary surrounding the island community.  It is a unique and fragile environment that deserves the little additional effort that it takes to sustain its viability.
The State of Florida has mandated that no city, municipality, or county shall restrict or ban the use of plastic shopping bags. Therefore, this is a totally voluntary action taken by the citizens of the Keys.
Many individuals and organizations are aware of this problem and have started using and promoting reusable shopping bags to reduce the litter created by single use plastic bags.  But the problem seems to persist, largely because of human forgetfulness, laziness, or just being uninformed.  It is a global problem.  This local campaign is adapted from a successful model used in California and Maine to unite the personal efforts of residents and local business people to work together in an effort to overcome these obstacles.
"Got Your Bags – Florida Keys" is a grassroots community-based initiative based in Big Pine Key, FL. The hope is that the program will grow and serve as a model for the whole island chain, and eventually the entire state of Florida.
Photo: Got Your Bags Florida Keys will be setting up booths at various venues to raise awareness by giving out free reusable bags. Recipients are asked to sign a pledge saying that they will use the bags. Recipients also receive a small window cling to stick on the car window to remind them to grab their bags when shopping.