Remember to use your reusable bags, reduce marine debris and litter

Upcoming Events
Volunteers Meeting
Big Pine Key Senior Center
January 27th
6 pm
Superbowl Sunday Festival
at Watson Field
Key Deer Blvd.
Feb 3, 2013
12-5 pm
Earth Day at
Bahia Honda
MM37
April 20, 2013
PLEASE ENCOURAGE YOUR FRIENDS AND NEIGHBORS TO ATTEND ONE OF OUR EVENTS TO GET THEIR FREE BAG AND MAKE THE PLEDGE!
Founding Sponsors

Deb Curlee
Keys GLEE

A portion of the proceeds from purchases on TheRecycleBag.com to benefit the Got Your Bags progam.

Got Your Bags Florida Keys
News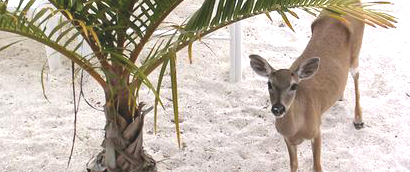 Dear Friend,
Thank you for your participation in the Got Your Bags Florida Keys program. This newsletter is an update to our volunteers and residents who are working together to make this campaign a success.
Who We Are
"Got Your Bags?" Florida Keys is a coalition of residents, businesses, organizations, and local government dedicated to the reduction and voluntary elimination of single use plastic bags. We plan to focus our initial efforts on Big Pine Key, with the hope that other islands in the Florida Keys may eventually embrace our goals.

The Problem
It is well documented how damaging the single-use plastic bag is to wildlife. Not only do we live in a refuge for many protected species, but we all benefit from an economy that relies on the National Marine Sanctuary surrounding our island community. It is a unique and fragile environment that deserves the little additional effort that it takes to sustain its viability.
Many individuals and organizations are aware of this problem and have started using and promoting reusable shopping bags to reduce the litter created by single use plastic bags. But the problem seems to persist, largely because of human forgetfulness, laziness, or just being uninformed.
It is a global problem. This local campaign is adapted from a successful model used in California and Maine to unite the personal efforts of residents and local business people to work together in an effort to overcome these obstacles.
How You Can Help
You got this email because you have pledged to use fewer plastic bags and use reusable bags when shopping. If you are a retailer, you have pledged to dispense fewer plastic bags, and to ask the shopper "Got Your Bags?". Once you make the transition, it will take no extra time from your busy day and the results will be a cleaner and safer environment and a more sustainable lifestyle.
Treasurers Report
Business Campaign
The business campaign is going well. Over 60% of the businesses on Big Pine Key have pledged. This is important in that it reflects the sympathy of the community on this issue. It also adds credence as we work to encourage the larger state- and national-based store chains in the Keys to support this important environmental effort as they implement their corporate social responsibility policies locally. Thank you to Greg Lepock, Jen Demaria, Dolly Garlo and Laurie Pollok for the energy that they are pouring into this part of the campaign. Please visit our website at www.keysglee.com/gyb and see Who's Taken the Pledge for a complete list of businesses.
Residential Campaign
The residential campaign is moving along nicely as well. We have gathered over 400 personal pledges from visitors and residents at the booths we sponsored. The first booth was the Lower Keys Chamber of Commerce Arts festival, and the second was the Out of the Blue Arts festival. We will host booths at the Superbowl Sunday festival on Feb. 3 and Earth Day at Bahia Honda on April 20. We are looking for volunteers to staff the booths! We will also be holding pledge drives at various homeowners association, more to follow on that.

Public Relations has been terrific. Thanks to Dolly Garlo, Shirley Gun and Deb Curlee, we have had an explosion of exposure on radio and in the press. We hope to keep the momentum going by placing bi-weekly ads in the News Barometer and PSA announcements on the radio. This is a very important part of the campaign. Keeping the logo and message active and in the eyes and ears of the public will yield a lot less plastic bags in the environment.

Visit our updated webpage at:
http://www.keysglee.com/index.cfm/gyb/

Like us on facebook at:
http://www.facebook.com/#!/GotYourBagsFloridaKeys?fref=ts

See us on the PlasticBagBanReport.com
Great national site for all things related to the plastic bag issue


VOLUNTEERS NEEDED

We need volunteers to help at our various events and activities. We need help for an hour or two at each of our booths to hand out bags and get people signed up to "Take The Pledge!" If you can help out, please email us back and let us know which event date and what time you can help.


We are still looking for donations of clean used reusable bags for our "Take a bag-Leave a bag" program.


Our next volunteer meeting will be on Sunday, January 27th at the Big Pine Key Senior Center, behind the fire station on Key Deer Blvd. Bring a friend.

Last but not least, please make a point of talking with cashiers when you shop about the fact you brought your own bags because you participate in the "Got Your Bags?" program. Ask how they approach shoppers - keeping up the dialogue is so important! (Someone in line behind you may overhear and be influenced by your great behavior!)

Key Deer Refuge supports GYB!

Thanks to the volunteers at the Key Deer Refuge for the great sign on US1 to remind everyone to use their bags! The sign is located at 30567 Overseas Hwy, bayside (just opposite the Bank of America) on Big Pine Key.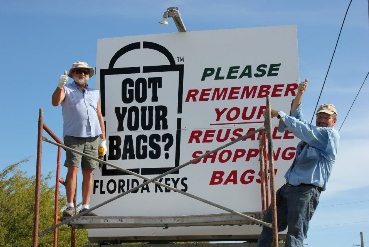 We can all do our part every time we shop. Make a point at the cashiers counter that you have brought your own bags. Ask them if they are with the "Got Your Bags" program. All the businesses that have already pledged have logo stickers on their storefront or doors. Patronize them and keep the campaign alive.
Thank you,
Ken Chopcinski
Chair